Today, homeowners not only decorate the interior of their homes but also space outside. The outside living area has also become a point of interest, and each homeowner wishes to beautify this space and make it warm and inviting. The outdoor living rooms and backyard dens are being decorated to add comfort to ordinary decks and patios.
If you wish to decorate your outside space, you should buy outdoor area rugs. A rug is known to be a magical piece of art, which can magically transform an area from boring to something extraordinary. The good news for rug lovers is that now there are rugs, which are specifically designed for outside purposes. You can use them to decorate your lawn, deck, poolside, or even patio.
There is a wide variety of outdoor area rugs. Here are just but a few:
Floor Mats
Floor mats are the most common types of outdoor rugs, and they have been in use for a very long time. The smaller-sized floor mats are mostly placed in the entryways. However, you should not confine their use to serve only the entryways. Of course, they are also available in bigger sizes that can be placed in the lawns, decks, and patios. They are usually made of plastic fiber, which is lightweight, durable, and easy to clean.
Handmade Rugs
The traditional handmade Persian and oriental rugs, which are used as indoor rugs today, were initially used as outdoor rugs. These rugs still maintain their original purpose as outside rugs. The eastern nomadic tribes that discovered rugs used them as flooring for their tents and other portable shelters. These rugs have been advanced with weather-resistant synthetic yarn giving warmth and equal elegance as their indoor counterparts. The rug is also durable and can withstand the harsh and unpredictable weather conditions outside.
Braided Rugs
If you want to achieve a countryside look in your den, yard, or patio, braided rugs are the best rugs to use. Since you are dealing with outside space, you need rugs made of 100% polypropylene because it is tougher and more stain resistant. Braided rugs are the best option if you want to counter a slippery floor.
Contemporary Rugs
A beautiful contemporary rug is suitable if you want your outdoor living area to look more modern. There are so many types of contemporary rugs that are meant for the outdoor areas. You just need to define your requirements more clearly to get the right rug.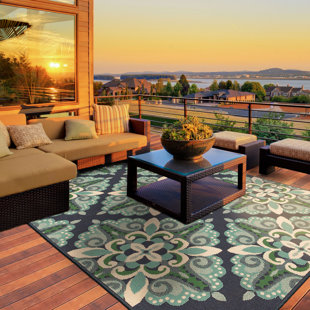 Bamboo Rugs
Bamboo rugs are smooth and natural, thus, making a perfect choice of rugs for decorating your patio, backyard, or outdoor living room. They are exotic and elegant, and they come in a wide variety of earthy colors. Give your outdoors a unique look using these bamboo rugs, which are versatile and easy to clean and maintain.
With the many types of rugs, which you can use for your outside living area, you have no excuse for having a boring outdoor space. As you decorate the indoors of your house, do the same for the outdoors and try to strike a balance.